Thanksgiving, Chrismakkah, and New Year's – Oh, My!
January 6, 2010
Happy New Years, everyone!
I'll post all about my holiday food adventures in separate posts after this one, but I want to use this entry to brag about my presents. Yes, I realize it's in poor taste and my mother always pooh-poohs materialistic bragging, but too bad, Mama! I'm an adult now which means I can eat dessert before dinner (one of my consistent childhood plans for adulthood), and I can show off my presents.
In no particular order, here are my kitchen-y/foodie prezzies:
1)
2)
The cookbook
Mastering the Art of French Cooking by Mme. Child and friends
– I know it is surprising that I don't already own this cookbook, but I've always been more a fan of Italian cooking than French. One of my resolutions for this year is to acquaint myself with many of the recipes and techniques in this book. Skimming through the book, I noticed a lot of recipes call for butter, which is always a plus!
3)
4)
Another cookbook
Cooking up a Storm: Recipes Lost and Found from the Times-Picayune of New Orleans
– This is a collection of lost recipes sent in from Louisiana residents and chefs after hurricane Katrina (and probably Rita, too). There's a really nice mix of recipes in here and I like that some are family recipes, while others are restaurant favorites. Each recipe comes with a little story, which, as a history-lovin' kind of nerd, I love.
* Please ignore some of the bitchy comments made by food snobs on the Amazon site about this book. Some people's mamas didn't raise them right.
5)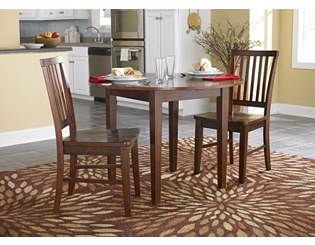 I bought
a proper dining room table with matching chairs
! No more eating off my childhood desk/diaper table for me. It's small with drop down leaves and two chairs, which is perfect for the dry wall, echo box I call home. Precious, ain't it?
Okay, now it's your turn to show off. What did Santa/Hanukkah Harry/Kwanzaa Kimmy/Atheistic Al bring you?